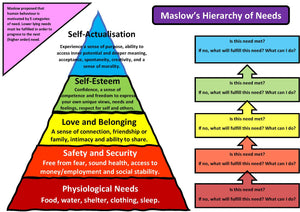 This colourful client handout is a great take home resource. Inspire clients to consider personal needs and promote growth with a visual prompt. Maslow's Hierarchy of Needs has long been a therapy staple. The 5 categories of need are a great guide for counsellors and psychologists alike, when considering what a client may need in order to fulfill their therapy or life goals. 
This helpful handout comes in A4 size with 25 full colour notepad sheets.
Great for on the fridge at home, work office or any prominent location. Clients love our resources and so will you!