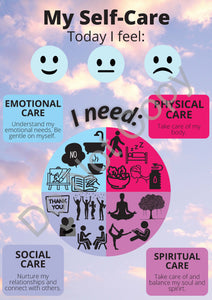 Self-care is imperative in all aspects of life.
Self-care refers to activities that preserve and maintain one's physical, emotional and mental health. It is an ongoing commitment to look after yourself through helpful behaviors that protect your health during periods of stress.
Paying attention to what is happening to your body, both physically and emotionally, helps you to identify when something is affecting you. It is important to take time out when you need to reduce feelings of stress and protect your mental health.
The Self-care handout is designed to prompt clients to routinely assess how they are feeling in order to implement healthy self-care strategies on a regular (daily) basis. Place this colorful eye-catching visual resource in a prominent location such as the fridge or bathroom mirror. Ask your client to routinely 'sit down' in their body and ask themselves "What do I need right now". 
The handout identifies (with visual prompts):
Emotional Self-care
- E.g., Journaling, setting boundaries, relaxation, time out from busy schedules, doing something pleasurable, addressing core emotional needs.
Physical Self-care
-E.g., Exercise, healthy eating, drinking water, getting enough rest and sleep, massage or other physical therapies.
Spiritual Self-care
-E.g., Meditation, grounding, time in nature, reading and learning, yoga, mindfulness or other 'balancing activities'.
Social Self-Care
-E.g., Connection, having fun, nurturing important relationships, seeking support from others, physical affection, demonstrating gratitude.
This resource comes with 25 A4 sheets in a full color Notepad. Easily offer this resource as a homework reminder or to reinforce important self-care strategies discussed in session. Pairs extremely well with our Acceptance Commitment Tool Kit (Parts 1 and 2).